Fifteen kilometers from the city of Kos and ten kilometres from the airport, at about the centre of the island lies the village Pyli.
You will find our Gallery very easily.
By bus
Hop on one of the public buses to the last stop in Pyli and here we are.
You come by car?
From the main road follow the sign for Pyli, drive straight up through the village until you see the car park on the right, approximately 10 metres before the square of Agios Nikolaos.
Our Gallery is open during the summer, daily from 9.00 till 21.00
We found ourself on Google Earth and it makes it now very easy to show you where we are and how to get to us. Please click the hotspots on the map underneath or zoom in on the Pily exit on the main road or the enlargement of the area of our Busstop Gallery and the workshop.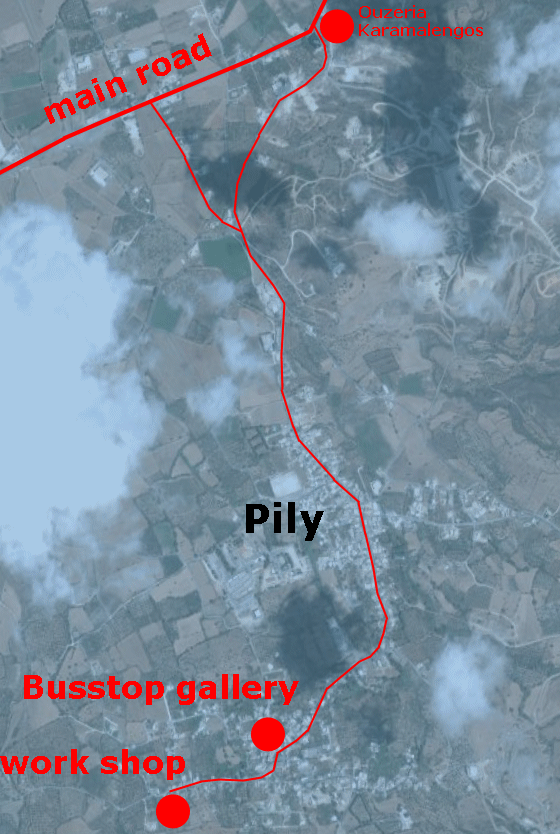 Discover Pyli!!!!
Every step in Pyli will be a journey into yesterday and today, into time and history.
Of great interest are the old chapels in Pyli as well a folk museum, display traditional wares, woven tapestries, and old farming tools.
Visitors can also see the remains of the vaulted tomb of the mythical hero Harmylus,you must also visit the Pigi (Spring) whose waters run out of a 16th century construction, and you will taste choice mezethes (appetizers) in the traditional Kafenia or tavernas.
This panorama is available as QuickTime movie! To see this movie you need to have Apple QuickTime installed.
When viewing the panorama click and drag within picture to move into preferred direction.